While developing traVRsal I want to keep an eye on other projects out there with similar concepts as I just love such experiences.
---
This list will be constantly updated as I discover new experiences!
---
Free-Roaming Games
traVRsal
Since I am the developer of it, allow me to start with my game. Combining procedural and manual world generation, natural walking, moving platforms, elevators, gravity and climbing. Includes a world builder to allow everyone to create their own impossible spaces experiences. The community has already built some amazing worlds.
More details: Website
Lavrynthos
Shown in the 2021 Venice VR category, this is a really well polished story-driven experience featuring natural walking and occasional meta-moments. It is only 20 minutes long but really a joy to "play" through. There are no interactive elements but the joy of discovery in the beautiful environment is great.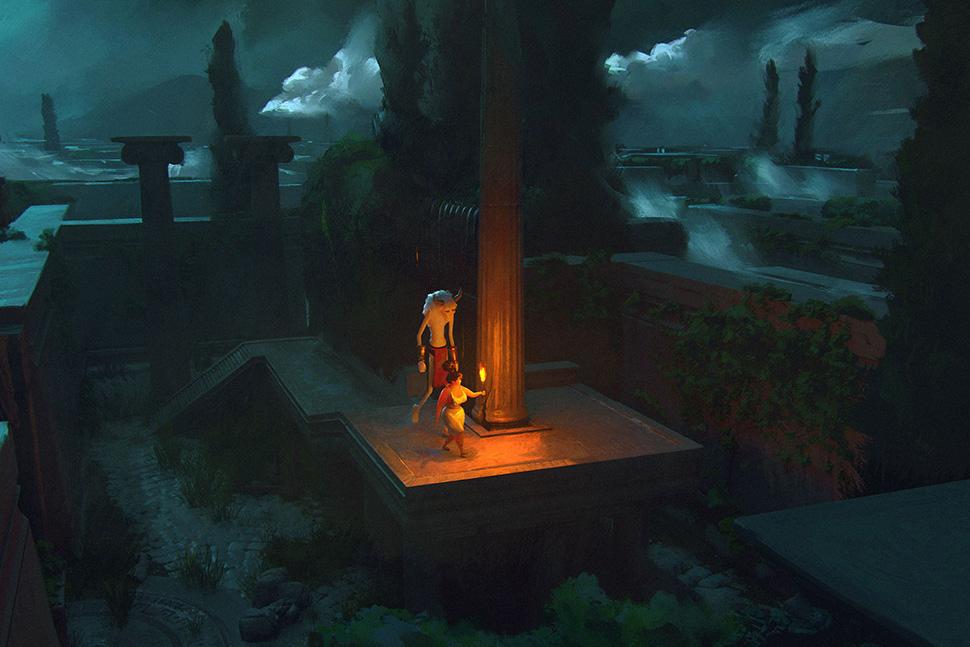 The Amusement
This game (in development) shows what a difference it can make to have great art and a sense for environment creation. Using multiple redirected walking mechanics the player can explore the environment.
From my first impressions it seems to focus on moving platforms, elevators, climbing and room switching by walking around outer walls thus making the inside invisible and easy to switch. I am not yet sure if also portals are used.
So far it looks amazing. More details: website
Eye of the Temple
When I first saw the trailer my jaw dropped. This is so good on so many levels. It doesn't use portals as far as I can see but is basically a treasure trove of redirected walking mechanics all put together in a beautiful setting filled with physics puzzles. I can't wait to actually try it out.
Check out the website for details!
A four year old game jam version of how it all started called Chrysalis Pyramid can be found on itch.io.
Tea for God
Definitely one of the firsts I have to name here. This is awesome. I was a bit set back actually because this project has some of the mechanics I am envisioning as well but the whole setting and game play and vision is radically different so I am relaxed again. Technically, it uses portals with mastery. I think it is a custom engine, at least from what I could derive from the screenshots.
I tried the Quest version and I could not make out where rooms are swapped, it's that good. And speaking of, yes there is a Quest version 🙂 I can only recommend to try it out and hope there will be many exciting updates in the future!
For details, check out the itch.io page!
Sömmad – The Lost Plants
Grab it on App Lab!
Spellbound Spire
This one is a really great accomplishment. You wonder around in a tower trying to find keys of various forms. There are some really nice ideas of rotating rooms, creating pathways, gravity inversion, non-transportable barriers, backwards to go forwards and gravity inducing gloves. All combined makes for a really nice 30 minutes of play-through. The levels are super well designed to make the space appear really big. The only big drawback I found is the usage of render texture portals which on the one hand side allows neat tricks like walking through a portal and suddenly being on top of a scene before, but the transitions are clearly visible and produce artifacts.
For details, check out some background info.
Unseen Diplomacy
Six weeks development time to create this amazing 4 minute random maze experience. Wow. It employs a room-swapping corridor method which is nicely masked by using the many doors one can open and close. The downside: it requires a HUGE play area but I just learned version 2 is in the making (now with portals). If you own a Vive and a villa or a parking lot, give it a spin and get it from Steam.
Shattered Lights
Oh. My. God. It might not be heavy on the actual game side but this must be one of the most gorgeous looking VR games I know AND it uses impossible spaces. The sheer amount of props they stuff the levels with and the level design are top notch.
Starfixer
A redirected walking game out of global game jam 2020. It does not use portals at all but instead rotates the world around you while you walk. Paired with interesting physics puzzles this makes for a great redirected walking experience. Load it from SideQuest!
Sömmad
A project I learned only very late about. It is an adorable multiplayer game where one is guiding and the other one is walking through a labyrinth. Utilizing the corridor technique (currently thinking about switching to stencils) this is a cool achievement. What I like most about it is, besides the cute art-style, the way how they draw a real continuous map of the non-Euclidean world. Available on Steam!
Games Involving Portals (without free-roaming)
Warp Lab
Portal
An obvious candidate. Not really what I would classify as non-euclidean geometry since the portals are ACTUAL portals, visibly showing another room and not masking the way to some how fold something into the same geometry space. But technology-wise, and of course the whole game, it's a master-piece that I enjoyed a lot.
Antichamber
I discovered this actually late. A friend of mine made me notice and oh my, this is good. So many great concepts and ideas how to use non-euclidean geometry concepts. All embedded into a somewhat narrated story / endless tutorial. I checked multiple forums and from what I can at least read so far, unfortunately no VR version is planned. From what I can see technology-wise I think it is a mixture of portal and stencil / depth buffer usage.
Shadow Point
This game has a very nice shadow manipulation technology and for some reason that I could not figure out yet, there are portals. There exists a nice write-up on the technique used. On Quest these are stencil buffers with a custom render pass.
Tracy Laser
This one is super neat and I am really looking forward to play it once out. It does not utilize non-euclidean geometry or even portals from what I can see but it very intelligently make use of the available space (2.5 x 2.5m) by having the player use moving platforms and elevators (a lot). The term coined here is redirected walking.
Minecraft
This one surprised me but then again, no 😉 It's minecraft after all. Someone utilizes what I think is the corridor technique to make only parts of the blocks visible at the same time. Very cool!
Others – Related or not evaluated yet
Up Next
I'll extend this page with new projects as soon as I learn about them. Have a tip? Post a comment!